From sublime Soviet bus stops to the Liverpool terrace that won the Turner, our critic picks his 2015 design and architecture highlights
1. Granby Four Streets, Toxteth – Assemble
Since this unlikely project won the Turner prize, throwing the established art world into existential turmoil, there's been much hand-wringing over whether the community-led regeneration of a bunch of terraced houses in Liverpool counts as art. But such a question is of little concern to either Assemble or the people of Granby Four Streets, who don't really have time to dwell on such things. They're too busy getting on with transforming their long-neglected streets into beautiful, affordable new homes.
The work going on in this corner of Toxteth stood out as one of the most important projects this year because it represents an alternative model of bottom-up development, after decades of "managed decline" and failed top-down regeneration attempts, by both the council and private developers. Following years of broken promises, the residents have taken the future of their streets into their own hands. "Assemble are the only ones who have ever sat and listened to the people who actually live here," said Erika Rushton, chair of the community land trust that lobbied to take ownership of the empty homes from the council, and which has been working with the young design collective for the past two years. "They've translated the community's own vision into drawings and models, and now into reality."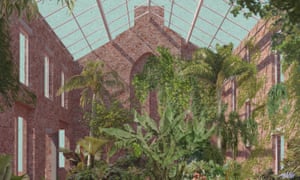 Rather than razing the tinned-up streets to the ground and replacing them with mean modern rabbit hutches (as has happened on many streets nearby), the project takes a finely tuned house-by-house approach, making the most of what is already there and celebrating the generous scale of the Victorian buildings. If a floor is missing, why not have a double-height space? If there's no roof or no floors, and the whole house is reduced to a ruined shell, why not transform it into a magical community garden? The proposals are full of inventive hand-crafted touches too, with fixtures and fittings produced by Granby Workshop, a social enterprise that employs local trainees. They are producing everything from baked ceramic door handles to trestle tables and mantlepieces made from the crushed rubble on the site, and using the Turner prize exhibition as a platform to boost sales – profits from which are all pumped back into the project.
"I just love Assemble's attitude," said resident Eleanor Lee, when I first visited the area last year. "They are so bold and fearless in their designs, and their vision for housing isn't limited to the usual cream-coloured boxes. They are architects working truly as artists." Well, that debate at least is guaranteed to rumble on.Read our feature
2. Fondazione Prada, Milan – OMA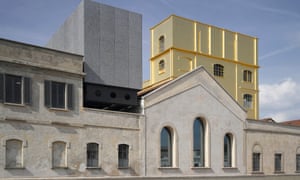 Proof at last that OMA can make exquisitely crafted buildings when they put their mind to it – and when the budget is big enough – this mini city of art provides a spectacular variety of exhibition spaces in a former distillery in Milan. There's a Miesian glass-walled sculpture hall, a trio of sunken concrete grain silos, a hovering metal hangar and a spiralling tower clad in shimmering gold leaf – not forgetting the cafe designed by director Wes Anderson, conceived as a shrine to 1950s Italian kitsch. Read the full review
3. House for Essex – FAT & Grayson Perry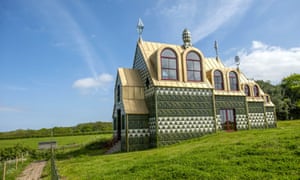 A ceramic gingerbread house crossed with a Thai wat, built in the middle of a field in Wrabness, the House for Essex was one of the stranger buildings to appear this year. The brainchild of Grayson Perry and FAT architects, for Alain de Botton's holiday homes company Living Architecture, it is an intriguing matryoshka doll of a house that rewards close inspection, revealing multiple layered narratives the longer you look. Comes complete with lurid wall hangings likely to induce nightmares. Read the full review
4. The Foundry, London – Architecture 00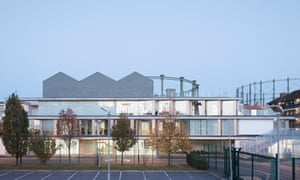 An intelligent model of how to make a tight budget go a long way, the Foundry opened in May as a brilliant transformation of an old shoe polish factory in Vauxhall into shared office space for charities and NGOs. With a sleek new extension made of simple concrete "shelves" with faceted glass inserts, and topped with a cluster of pitched-roof sheds, it provides a beautiful and useful addition to London's increasingly endangered species of affordable workspaces.Read the full review
5. African Modernism – Vitra Design Museum, Weil am Rhein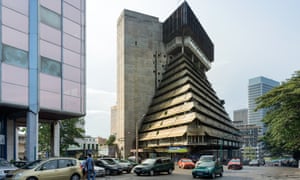 From a cluster of concrete wigwams in Dakar to a monumental ziggurat in Abidjan, the buildings showcased in this fascinating exhibition and book shed new light on a region too often written out of the history of modern architecture. Mostly the products of big, state-sponsored initiatives in the 1960s and 70s – heroic parliament buildings, imposing central banks, daring universities and vast stadiums – they embodied the ambition of Africa's "big man" leaders, all built for propaganda purposes as much as anything else. Read the full review
6. Flint House, Waddesdon – Skene Catling de la Peña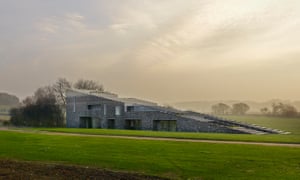 A chiselled geological fissure of a building, the Flint House erupted from the grounds of Waddesdon Manor this summer as the latest addition to the Rothschild family seat. Worthy winner of the RIBA House of the Yearcompetition, it is a beguiling flinty wedge wrought with exceptional craftsmanship. Its materials – roughly hewn boulders, raw flint nodules, crisply cut chalk blocks – exude an unusual sense of timeless magic, absent from so much flimsy contemporary architecture. A building you can't help but fondle. Read the full review
7. The World of Charles and Ray Eames – Barbican, London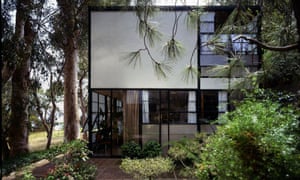 One of the most comprehensive and meticulously researched exhibitions ever staged on the Californian design duo Charles and Ray Eames, this sprawling retrospective rifled through everything from their early chair prototypes to their films and immersive multimedia exhibition designs. One highlight was a recreation of the vertical ball-powered xylophone from the Eames Office – embodying Charles' advice to his staff: "You must take your pleasure seriously."Read the full review
8. Soviet Bus Stops – book by Christopher Herwig (Fuel)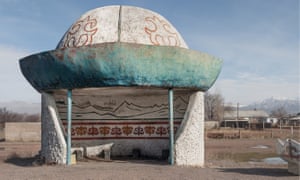 From voluptuous concrete seashells on the coastal roads of the Black Sea to wooden tepees in the forests of Estonia, the bus stops of the Soviet world embody a rich seam of experimental architecture, as Christopher Herwig's beautiful photo-book revealed this year. The norm was "wild going on savage," as Jonathan Meades writes in the foreword, each structure illuminating "the Soviet empire's taste for the utterly fantastical". Particularly weird highlights include the Kyrgyzstan bus shelters shaped like the region's high-crowned kalpak hats and the mosaic encrusted sea creatures of Pitsunda. Read the full review
9. Wilton's Music Hall refurbishment – Tim Ronalds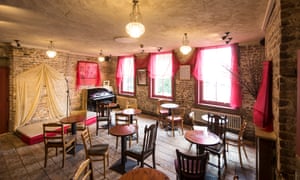 "We didn't want to lose the atmosphere of it being a forgotten old wreck," said Tim Ronalds, architect of the masterful restoration of Wilton's Music Hall in east London, a magical Tardis of crumbling Victoriana hidden behind a row of unassuming terraces, tucked down a back street in Whitechapel. Ronalds has achieved a ramshackle refurbishment in the best possible sense, retaining the ancient palimpsest of plasterwork and peeling paint, while bringing the structure and servicing up to date and opening up a series of new rooms in the labyrinthine complex. Read the full review
10. Grace Farms, Connecticut – SANAA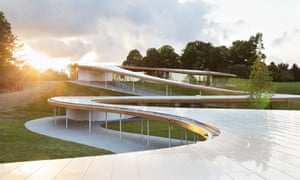 A silvery serpentine rooftop floating above the rolling countryside in New Canaan, Connecticut, SANAA's Grace Farms building provides a suitably ethereal enclosure for this new centre for faith and the arts. It is the latest product of the Japanese architects' relentless quest to make their buildings as thin and lightweight as possible, the rooftop supported on toothpick columns, and a series of glass-walled pavilions nestling beneath the canopy like dew drops under a leaf.