A decorative fynbos shrub covered with masses of bright yellow flowers in spring, and one of the species that give us Honeybush Tea.
Description
Erect, reseeding shrub up to 2 m high. Leaves trifoliate; leaflets linear, terete, and margins strongly revolute, softly hairy. Flowers yellow; bracts clasping base of calyx. It flowers in spring and early summer (September to December).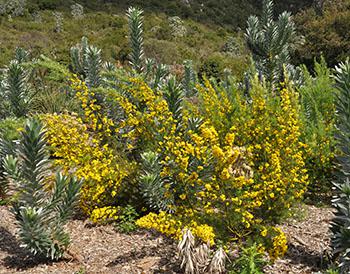 Conservation Status
According to the website https://redlist.sanbi.org, checked on the 4th April 2016, the conservation status of Cyclopia meyeriana is Least Concern (LC). It is a common species that is not threatened.
Distribution and habitat
All Cyclopia species are indigenous to South Africa and endemic in the Western Cape. They are found in the Fynbos Biome of the Cape Floristic Region. This species occurs in the mountains of Cederberg to Riviersonderend. Cyclopias are usually restricted to very small areas and very specific habitats, such as high mountain peaks, marshy areas, shale bands and wet slopes. This species occurs in mountain fynbos on the upper slopes, often beside streams, at 1 000–1 800 m altitude.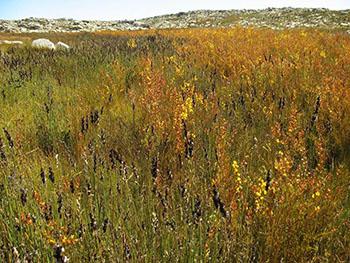 Derivation of name and historical aspects
The name Cyclopia is derived from the Greek word cyclos meaning 'a circle' and pous 'a foot', which alludes to the intrusive circular base of the calyx.
Cyclopia is a genus of 20 species of flowering plants in the legume family, Fabaceae. It is widely known as honeybush, an indigenous South African herbal tea that has a pleasant sweet flavour. Honeybush was first mentioned in the botanical literature in 1705.
Plants in this genus are recognized by their trifoliate leaves, single flowered inflorescence and sweetly scented bright yellow flowers with prominent grooves on the standard petal, intrusive calyx base and two bracts fused at the base around the pedicel.
Ecology
Like Cyclopia genistoides with its sweetly scented, bright yellow flowers, this species is probably also pollinated by carpenter bees.
This species is a reseeder, i.e. it is killed by a fire, but the population regenerates by seed after the fire.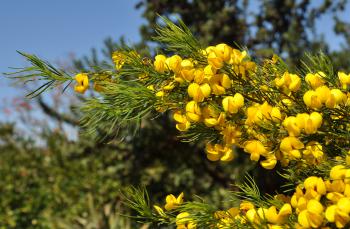 Uses
Honeybush gets its common name from the honey-flavoured herbal 'bush' tea that is made from its leaves. Many species of Cyclopia, including C. meyeriana, C. genistoides, C. pubescens, C. dregeana, C. buxifolia, C. intermedia, C. maculata, C. sessiliflora and C. subternata, can be used to make Honeybush Tea. This tea is enjoyed by many in South Africa because it contains no caffeine, very little tannin and has many health-giving attributes, including anti-diabetic effects. Many are being looked at for future commercialization.
Growing Cyclopia meyeriana
Like Cyclopia genistoides, this species can be propagated by seed as well as by cuttings. Seed must be treated to induce germination. They have a very hard seed coat, so the seed does not absorb water easily. Scarification with sulphuric acid or sandpapering the seeds damages the coat enough to allow the uptake of water. Cyclopias grow naturally in the Fynbos Biome, which is prone to periodic fires. This, therefore, means that smoke treatment will also have to be used to break dormancy. Seed can be soaked in a smoke extract, and the discs are available from the Kirstenbosch Seedroom for sale. The best time to propagate it is summer to autumn.
Grow Cyclopia meyeriana in well drained, sandy soils with an acidic pH of 3.5–5, in full sun. This species needs plenty of water and is not water-wise. It is sensitive to frost and wind resistant.
References
Goldblatt, P & Manning, J. 2000. Cape Plants . A conspectus of the Cape flora of South Africa. Strelitzia 9. National Botanical Institute, Pretoria & Missouri Botanical Garden, Missouri.
Montego Rooibos Herbal Tea website: https://www.montegotea.com/honeybush.htm.accessed 21 April 2016
Pienaar, K. (2nd ed.) 2000. The South African What what flower is that edn 2. Struik, Cape Town.
Raimondo, D. 2011. Cyclopia meyeriana Walp. National Assessment: Red List of South African plants version 2015.1. Accessed on 2016/04/21.
US Patent Application: Anti-diabetic extract of honeybush https://www.google.com/patents/US20110045108
Van der Walt, L. 2000. Cyclopia genistoides (L) R.Br. (Fabaceae). https://pza.sanbi.org/cyclopia-genistoides, accessed 21 April 2016.
Nomama Mei
Kirstenbosch National Botanical Garden
May 2016