the current health pandemic has made many architects and urbanists reconsider the way we live, and none more so than studio BELEM who have shared their proposal that rethinks traditional housing models. with factors such as working from home, the need to reduce pollution in cities, and the desire to be closer to nature, the 'aula modula' project proposes a flexible and lively place that caters for these societal changes.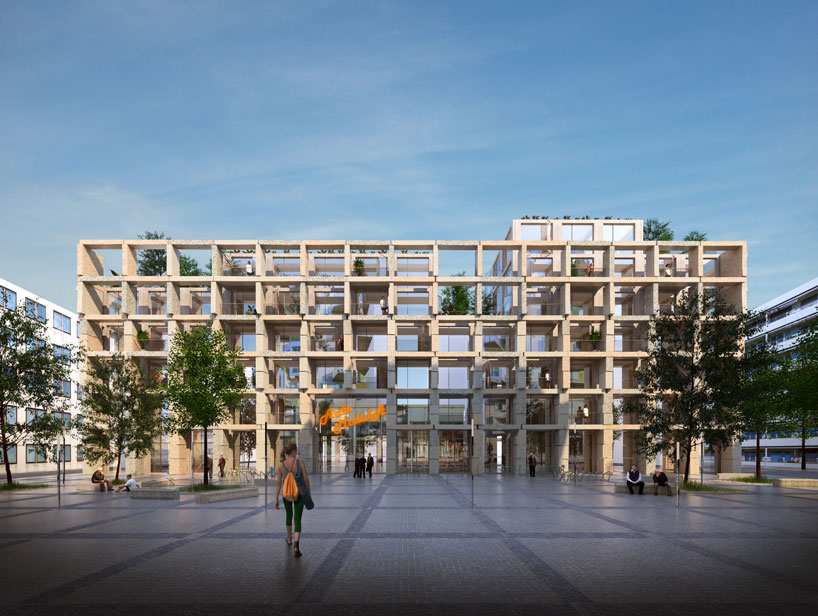 plaza view
all images courtesy of studio BELEM
traditional models of life and work are changing. the trend of working from home is on the rise as people no longer accept to cram into public transportation, or waste hours in traffic jams to get to their workplace, especially since we are now more aware of the polluting consequences. while improvements in technology and communication are making this possible, making physical meetings between colleagues unnecessary.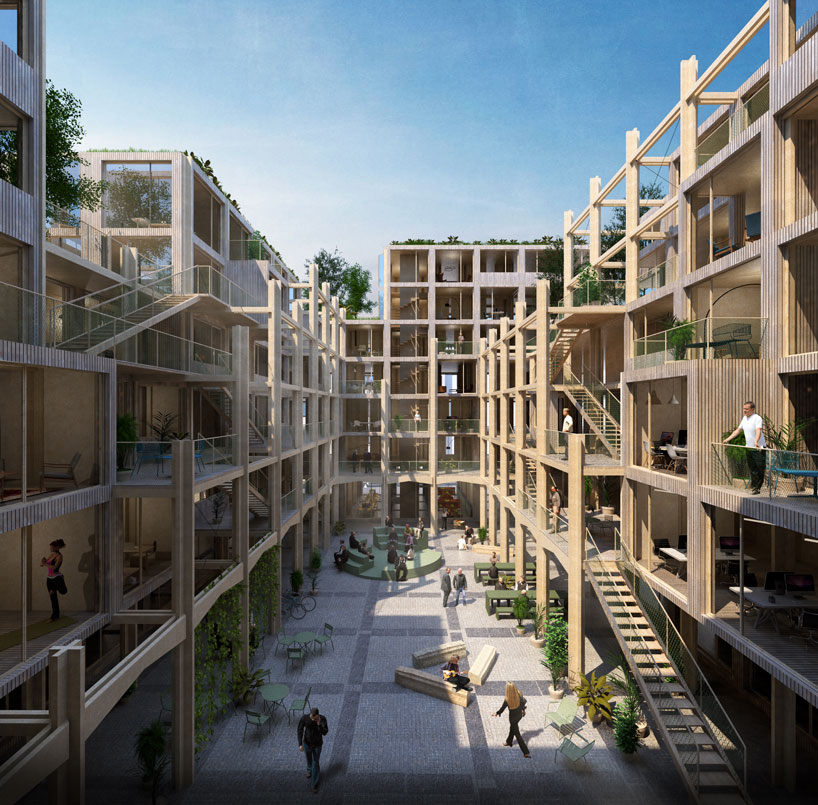 courtyard view
under COVID-19 lockdown, the disconnect between cities and nature is also becoming more apparent and leading many to advocate for an 'urban exodus' to return to a life in harmony with the environment. lifestyles are evolving, reinventing themselves and leaving old patterns behind. these new attitudes and new households (blended families, roommates etc) inspired studio BELEM to design aula modula.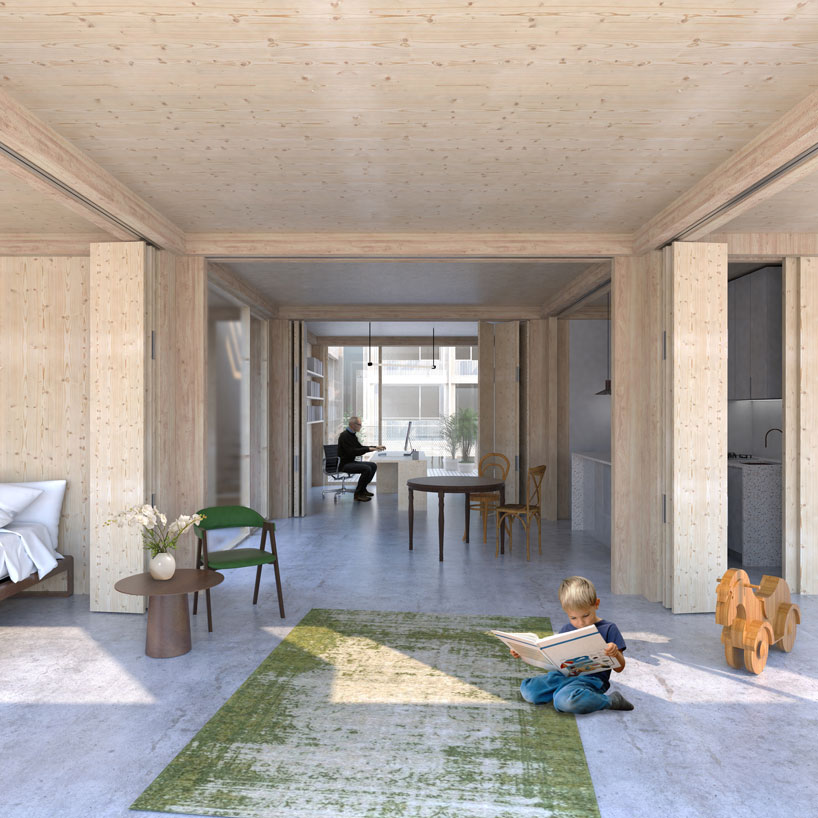 home view
aula modula frees itself from the standards and codes of traditional housing and rethinks the pre-established functions of a home. it allows us to be free and flexible enough to sustainably support these societal changes. aula modula brings a natural environment back to the city, promoting new commonly shared spaces and social interactions between its residents.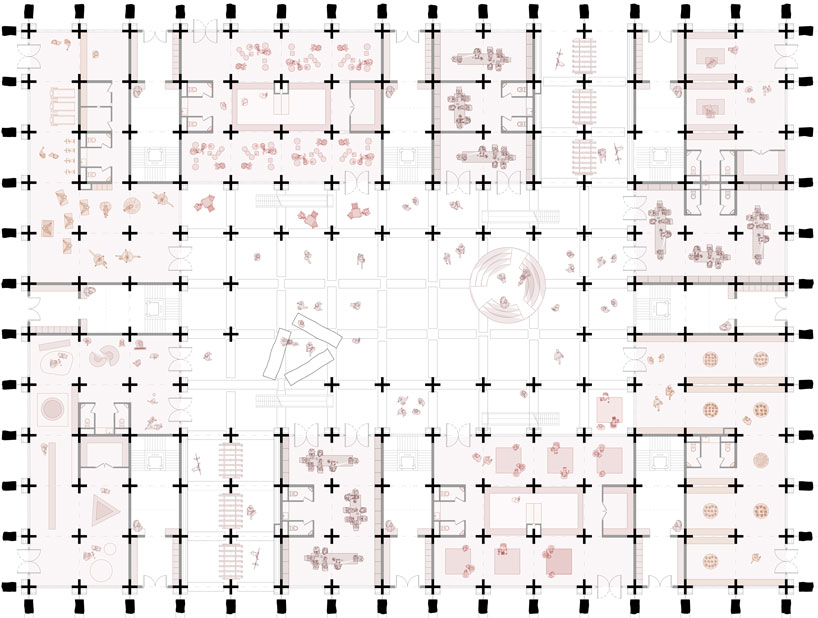 ground floor plan
the project redefines the living spaces of housing, and allows its residents to be creative. it also provides workspaces to each apartment. these individual home offices are all facing the common courtyard and have direct access to collective terraces that promote social and professional interactions between residents and workers.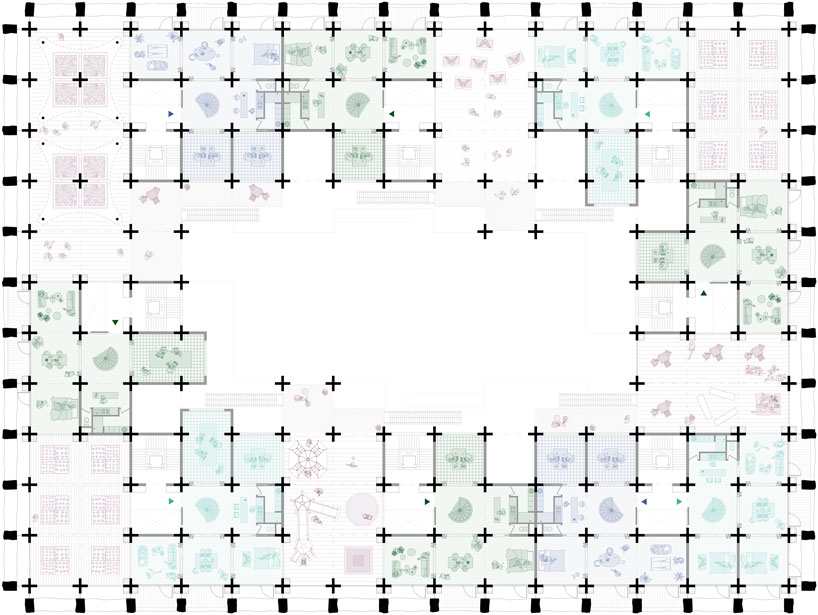 terrace floor plan
the project promotes an evolutionary architectural aspect and a simple, low-tech post and beam construction using locally sourced materials. the design also includes various features to ensure good management of the resources and available energy. these include, but are not limited to: green spaces to promote biodiversity as well as the natural ventilation of the place, wastewater reuse for green roofs, responsible waste management, and recovering thermal energy from the building to heat a seedling greenhouse that will feed the residents' crops.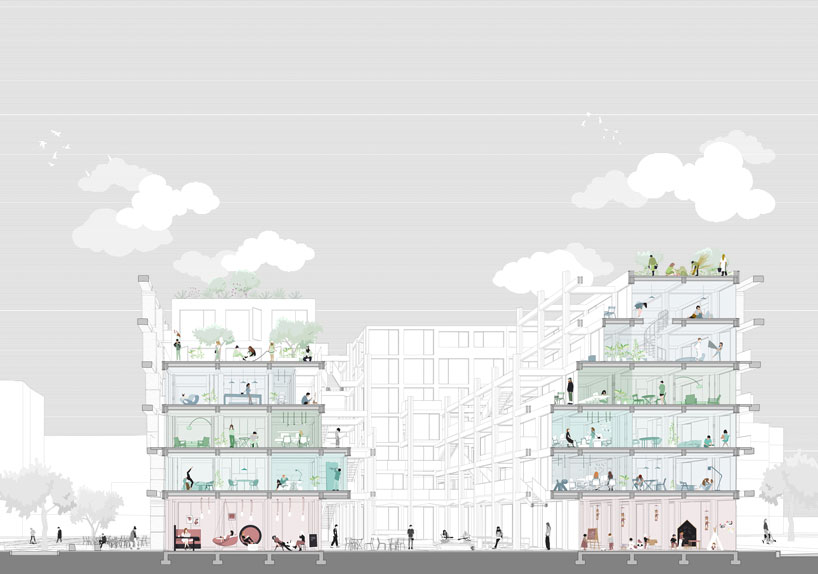 section
finally, the project is open to shops and programming, allowing residents to respond to these new collective narratives. the global surface of the project is fragmented on the upper floors to create a succession of wide, well-oriented, south-facing terraces. they host collective gardens and outdoor spaces.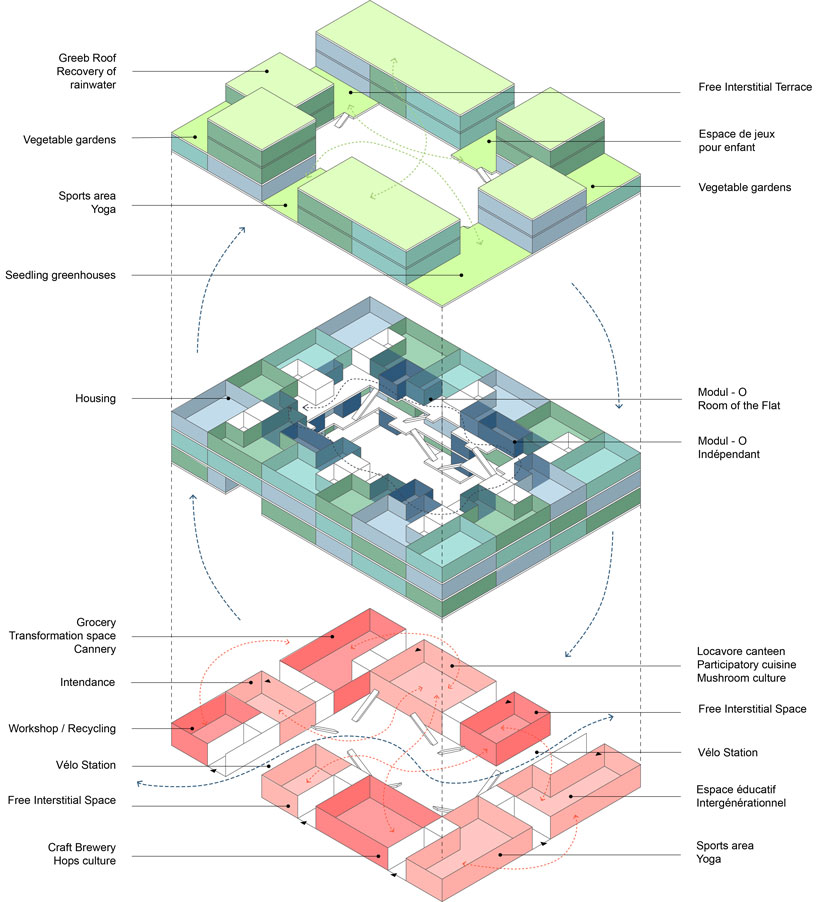 program axonometric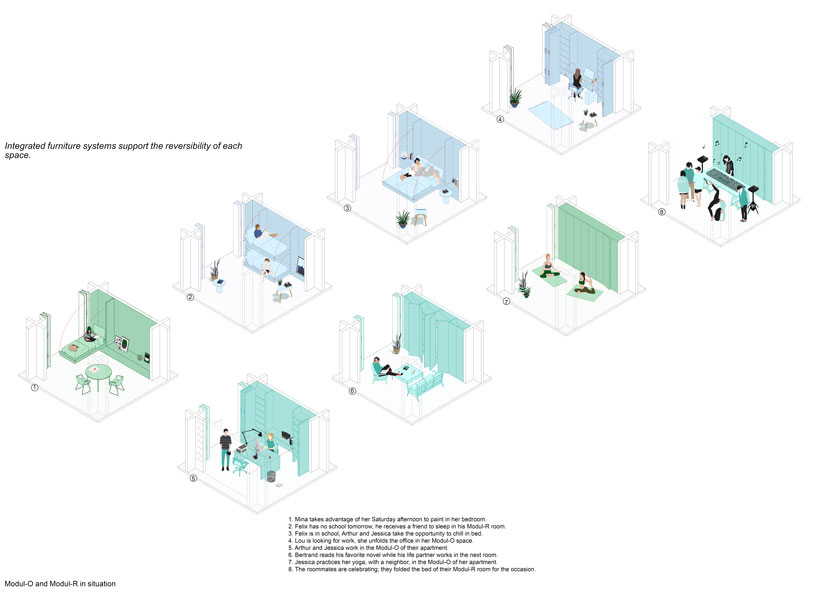 living modules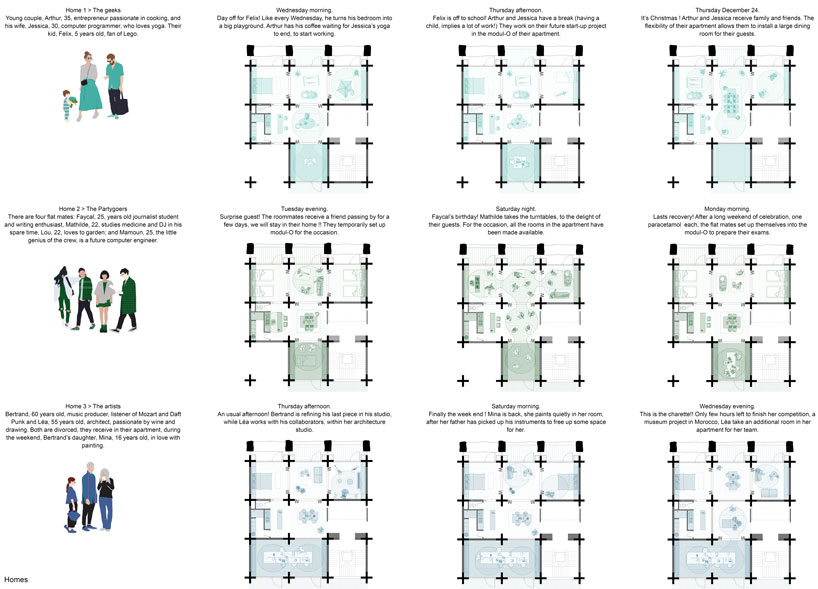 different variations for different households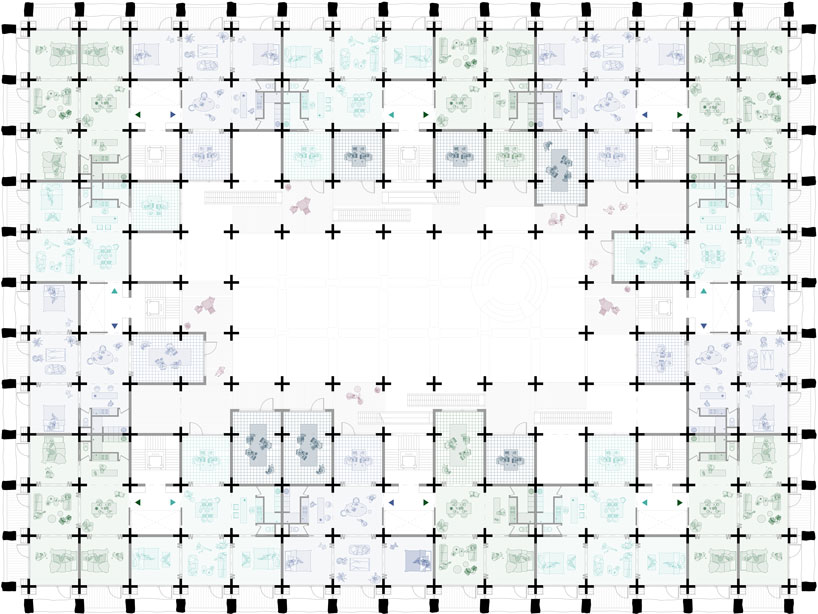 typical floor plan made up of the different modules
project info:
project name: aula modula
type: residential
status: concept
design: studio BELEM