This Article Appeared first on Designboom. For the original click here
plans have been unveiled for the world's tallest hybrid timber tower. designed by the collaborative team of SHoP architects, BVN, and eckersley o'callaghan, the 40-storey building will serve as the sydney headquarters of technology company atlassian. serving as the catalyst for the city's new tech precinct, the building will use mass timber construction methods to offer a substantial reduction in the project's carbon footprint. the building will operate on 100% renewable energy from day one of operation and will include solar panels built into its façade.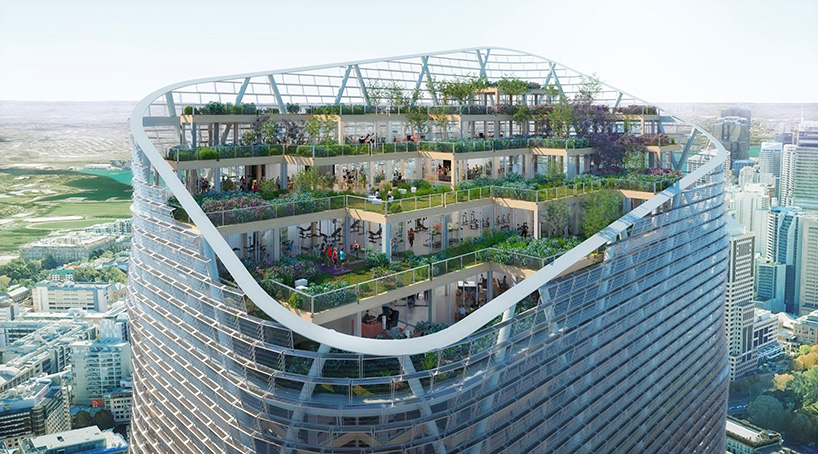 all images and video courtesy of SHoP / BVN / eckersley o'callaghan
the 180 meter-tall tower (590 ft) has been designed by SHoP and BVN, with engineering firm eckersley o'callaghan responsible for the building's structure and façade design. in line with atlassian's commitment to operate on 100% renewable energy and reach net zero emissions by 2050, the project will target 50% less embodied carbon in construction compared to a conventional building.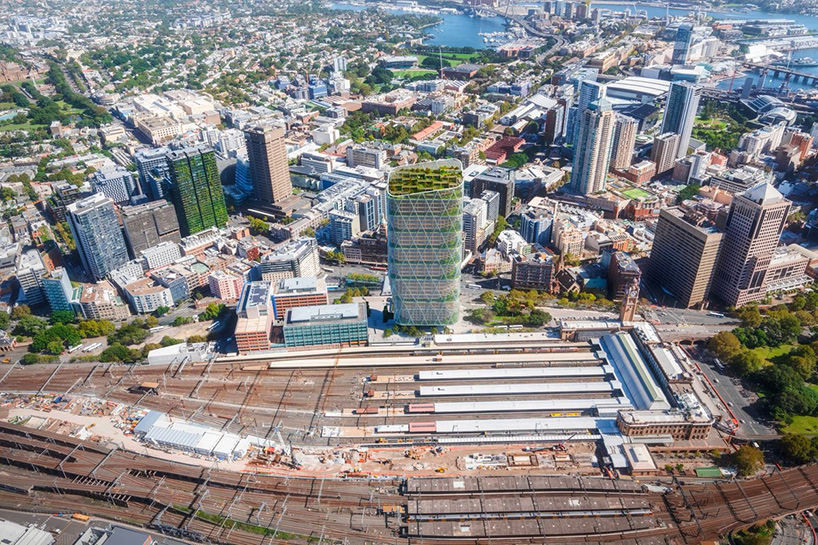 the tower's steel exoskeleton incorporates an electricity-generating façade system with self-shade capabilities to reduce direct heat gain. combined with the use of mass timber, the façade enables the project to leverage sydney's temperate climate to help reduce carbon emissions and generate on-site energy. the project will include a mix of outdoor and indoor spaces and will use an energy-efficient approach that features natural ventilation and large planted terraces that give access to nature.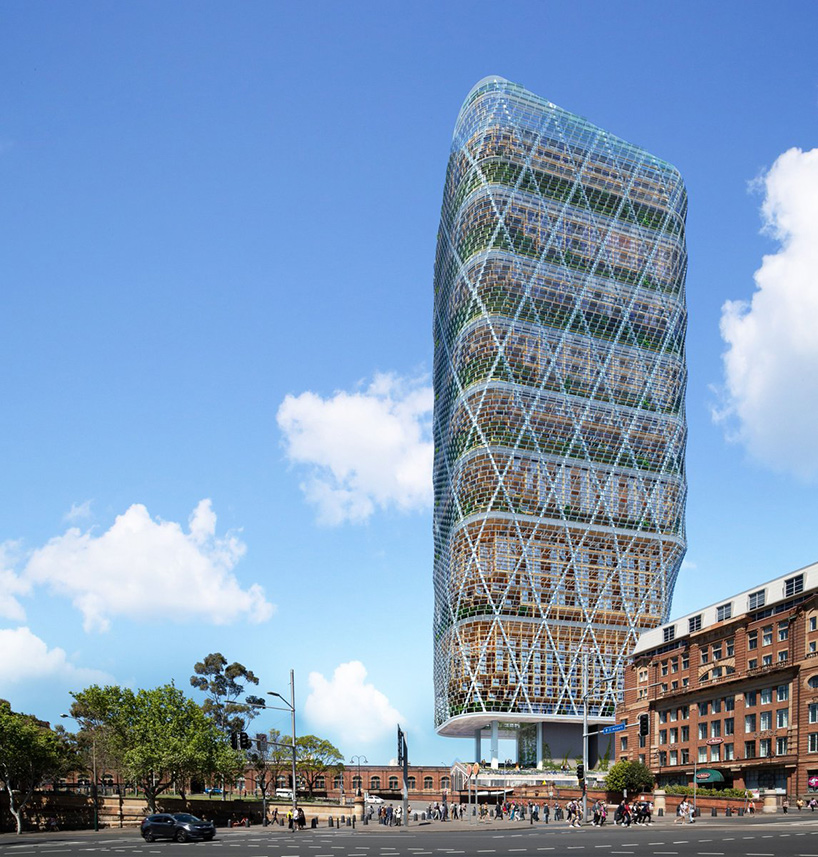 'we have developed an innovative new approach to designing tall towers using a hybrid structure where the volumetric mass is timber,' explains eckersley o'callaghan founding director james o'callaghan. 'this approach significantly reduces the embodied carbon of the tower by up to 50% when compared to traditional tall building construction, setting a new sustainability standard for tower construction in the future.'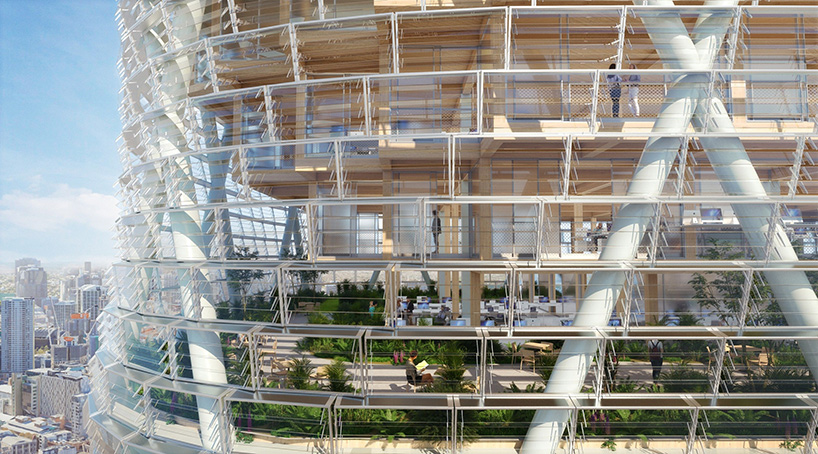 'atlassian has their eyes set firmly on the future, this project will achieve a number of 'firsts' globally and in australia,' says ninotschka titchkosky, BVN co-CEO: 'it will make what was once best practice seem inadequate and hopefully lift the ambition of the built environment across australia.'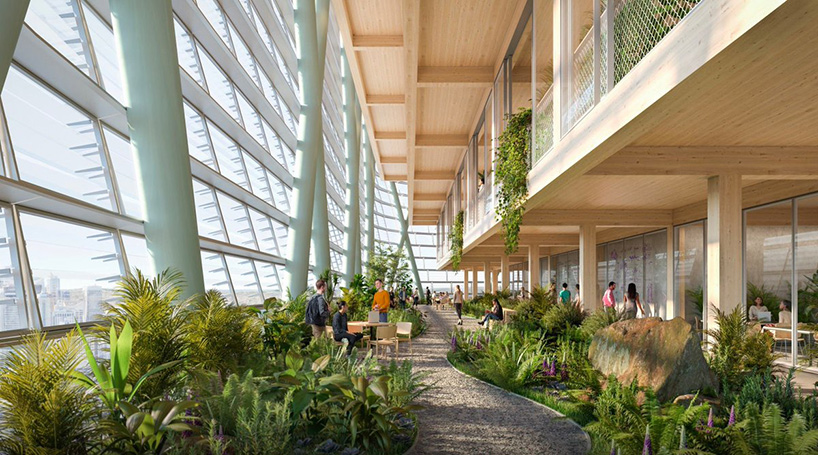 'our collective work around the world focuses on elevating the experience of the public realm in urban environments, so we really welcome this opportunity to work with such wonderful partners to create a high-performance landmark for sydney's new tech district, at ground level and in the skyline,' adds william sharples, SHoP founding principal. the new building is scheduled to complete in 2025.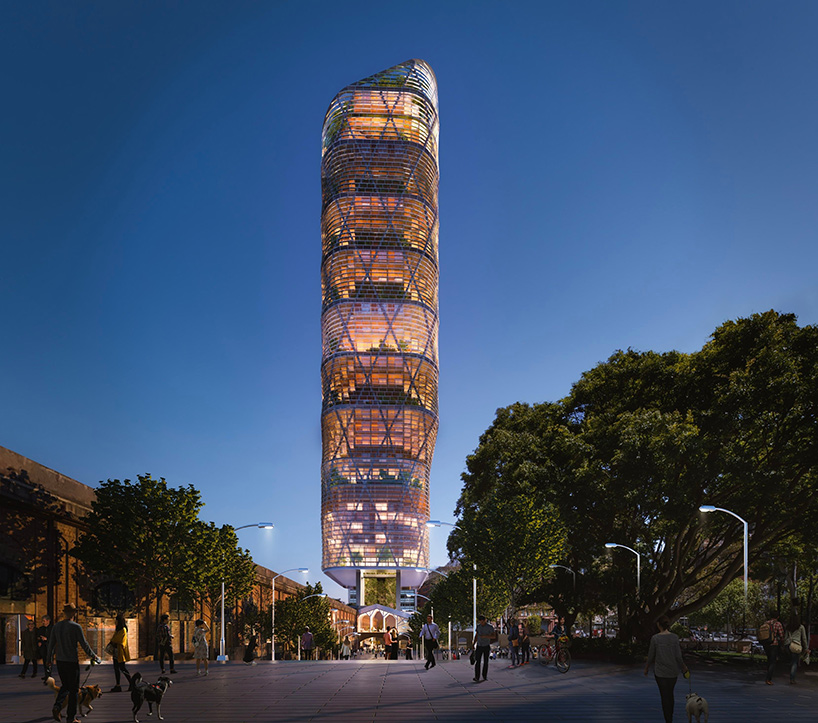 project info:
name: atlassian sydney headquarters
location: sydney, australia
design: SHoP + BVN + eckersley o'callaghan
client: atlassian