seemingly growing from the trunks of the trees, london fieldworks fuses art and architecture to the outdoors with a series of intricate birdhouse cityscapes. these metropolis, made from light pine wood, resemble natural homes half way up trees, like wasp nests or even mushroom, but instead reveal clusters of miniscule houses for our feathered friends at closer glance. each temporary installation has been created bespokely to reflect the individual site's unique architectural history in their style.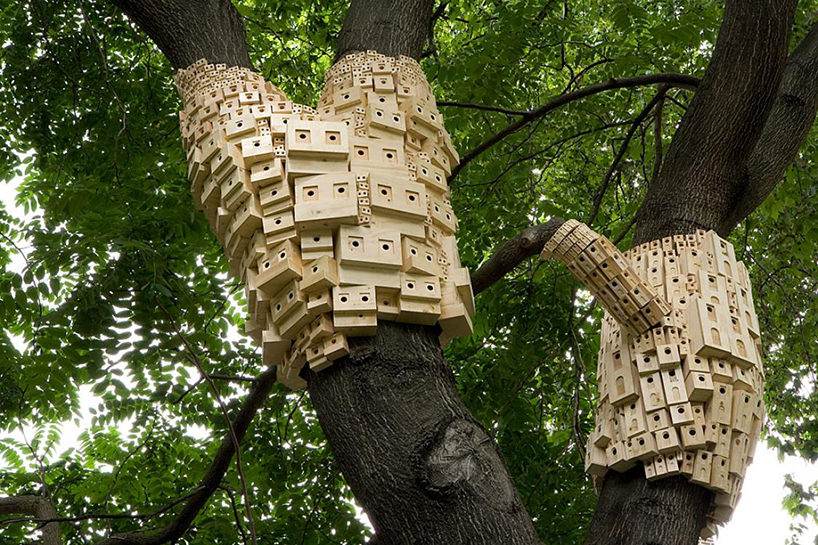 spontaneous city in the tree of heaven (main image also)
all images courtesy of london fieldworks
london fieldworks, the creators of the city-like birdhouses, is an interdisciplinary arts practice formed by bruce gilchrist and jo joelson. their delicate creations have been installed over multiple sites in the UK, sprawling up the trees in london as well as nottinghamshire.
'spontaneous city in the tree of heaven' mounts two sculptural installations to trees of heaven (ailanthus altissima) in opposing sides of london. the first, in duncan terrace gardens in the east, reflects the surrounding architecture which combines georgian town houses with 1960s social housing. the second, in cremorne gardens in the west, mirrors the renowned world's end estate which is adjacent to the park. both treetop metropolises are constructed from several hundred bespoke bird boxes.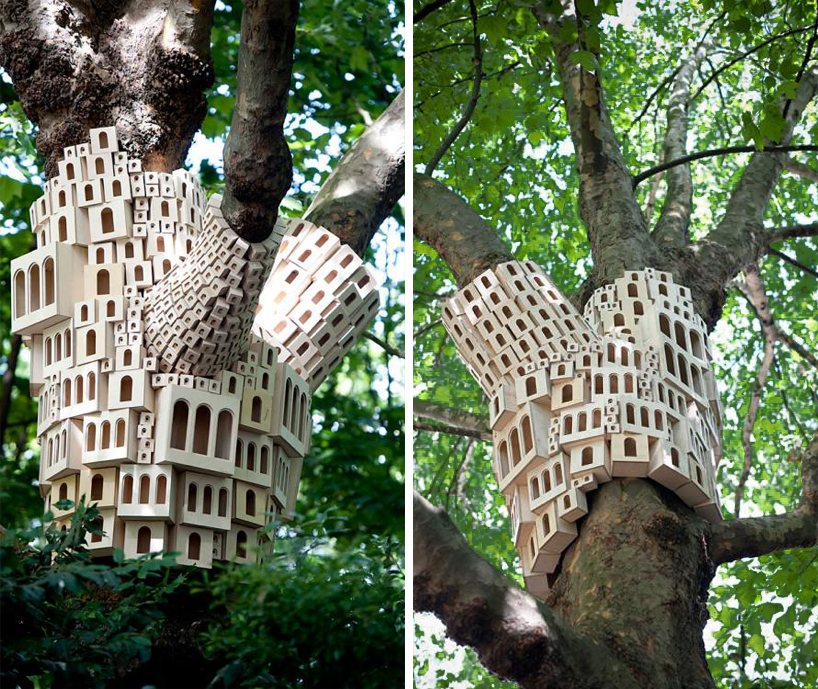 spontaneous city: clerkenwell
originally created for the district's design week in 2011, 'spontaneous city: clerkenwell' was installed in the gardens of st james church. the cluster of micro-homes reflect the area's ongoing gentrification as well as its historic religious foundations from the early 12th and 15th century.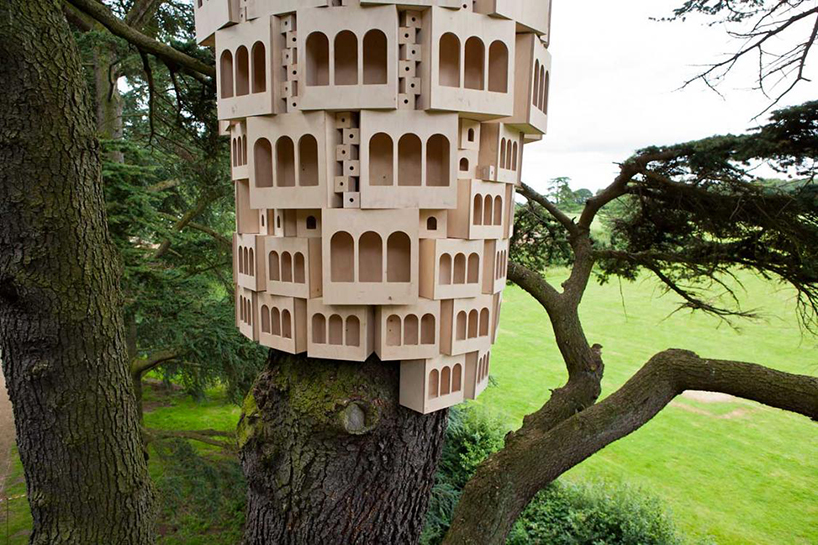 spontaneous city in the tree of lebanon
moving from the the UK capital to the grounds of clumber park in nottinghamshire, 'spontaneous city in the tree of lebanon' was commissioned by the national trust. it was mounted upon one of the estate's many cedar trees. the sculpture resembles a series of mansion blocks, each taking inspiration from the theme of the lost house of clumber as well as the estate's historic collection of exotic and rare animals.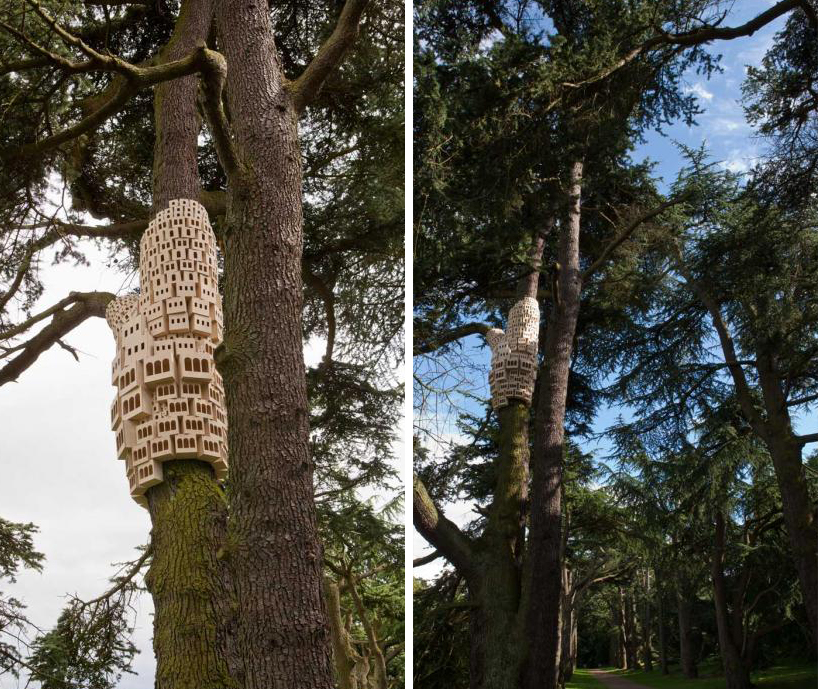 spontaneous city in the tree of lebanon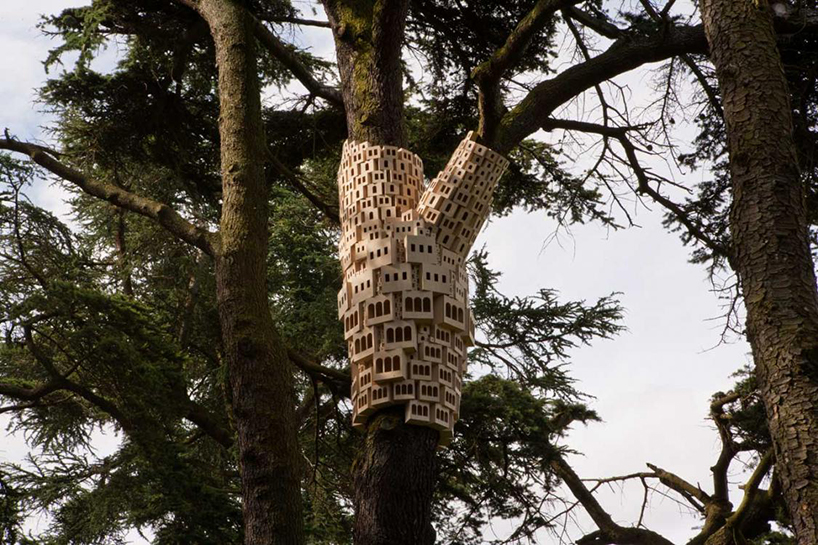 spontaneous city in the tree of lebanon
project info:
creators: london fieldworks
project 1: spontaneous city in the tree of heaven
project 1 installation year: 2010
project 2: spontaneous city: clerkenwell
project 2 installation year: 2011
project 3: spontaneous city in the tree of lebanon
project 3 installation year: 2012
This Story fist appeared on Design Boom. For the original please click here