The Mayoral Committee Member for Urban Management, Alderman Grant Twigg today, 7 October 2020, handed over the Bonteheuwel Town Centre site to the contractor. This signifies the official commencement of the upgrade of this iconic landmark. Read more below:
The City has allocated R6,1 million for the first phase of the Bonteheuwel Town Centre upgrade during the 2020/21 financial year.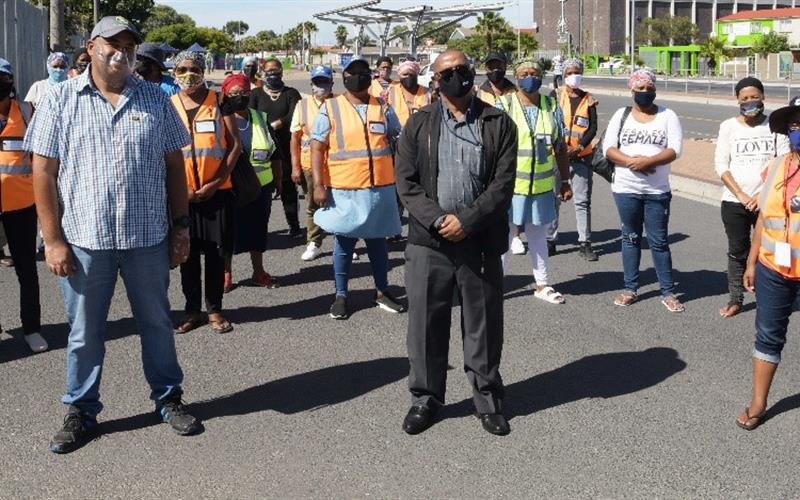 This phase comprises of the following components:
The upgrade and rationalisation of fencing within the confines of the Town Centre, which includes the provision for vehicular gates, pedestrian gates and the construction of additional fencing.
The upgrade and improvements to the structural integrity of the City-owned double-storey building, which accommodates shops and doctor's rooms on the ground floor and offices on the top storey.

'We are pleased that this upgrade project is now underway. It is one of the initiatives that form part of the Mayoral Urban Regeneration Programme aimed at uplifting communities and improving service delivery. Part of the mission of cities is to create functional neighbourhoods and we remain committed to fast-track efforts to improve the quality, safety and environment of communities in the 23 precincts identified for renewal,' said Executive Mayor Dan Plato.

'Initially, this project would have commenced much earlier, but due to the COVID-19 pandemic, everything came to a halt. We are delighted to officially hand over this site to the contractor to commence work. I want to encourage the community of Bonteheuwel to take responsibility and ownership of this beautiful facility once complete. It is a facility to be proud of, from the architectural sketches to the designs,' said Alderman Twigg.

Construction of the perimeter fence will commence during this month, while the upgrading of the double-storey building is expected to commence in January 2021.

The second phase will comprise of hard landscaping of the public space within the Town Centre. Design work has already commenced and work is anticipated to start in the 2022/23 financial year.

'As a sub council, we are excited to see this project move beyond the paper work. We are thankful to Alderman Twigg, and the Mayoral Urban Regeneration Programme for ensuring the commencement of this project for the benefit of the community,' said Councillor Courtney Van Wyk, Chairperson for Sub Council 5.
Published by:
City of Cape Town, Media Office