Today, together with officials from the City's Enterprise and Investment Department and the Cape Town Central City Improvement District, Mayoral Committee Member for Economic Opportunities and Asset Management, Alderman James Vos, Mayoral Committee Member for Urban Management, Alderman Grant Twigg and Subcouncil 16 Chairperson, Councillor Matthew Kempthorne, visited restaurants in the city's Central Business District (CBD) to inform and encourage owners to apply to rent the sidewalk in front of their establishments at a reduced rate. This is the first in a range of interventions that will be initiated to help breathe life back into the CBD. Read More below:
This initiative aims to offer establishments the opportunity to welcome more customers as the increased space will offer more room due to social distancing.
'We hope that this will also encourage residents to enjoy outdoor social activities, which has been shown to decrease the risk of COVID infections and improve the safety of patrons, while maintaining social distancing and all necessary health protocols.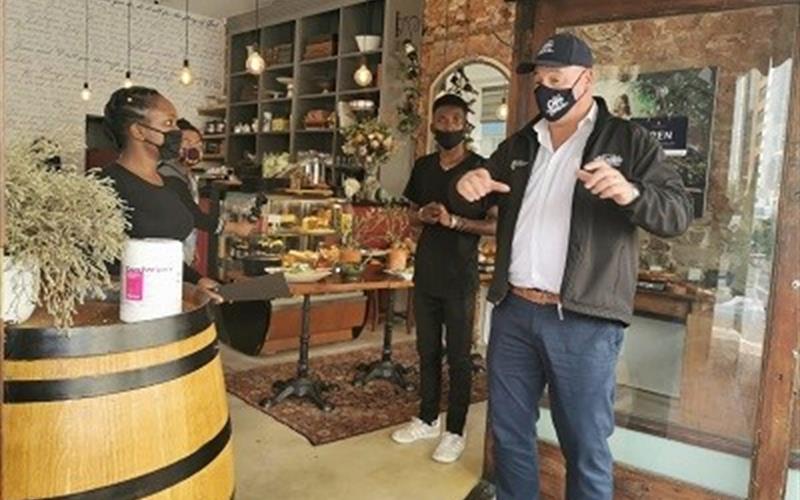 'The City's Enterprise and Investment Department has been working closely with other key departments to attract footfall and drive demand to the city centre that makes business sense. Together with Invest Cape Town, our investment brand in the department, we are focused on place-making to attract more visitors and have also been making a compelling case for why local and international businesses should either expand or invest in our CBD based on the sound infrastructure, connectivity and accessibility the area offers,' said Alderman Vos.
'COVID-19 forced us to think out of the box and look at new innovative ways of doing things. We need to look at exciting initiatives and partnerships that does not need a lot of investment and assist restaurants in dealing with social distancing. Getting our economy back and in better shape is a collective responsibility. We will also launch other exciting initiatives aimed at the informal economy in due course,' said Alderman Twigg.
Information on the CCID's campaign, called "Come Back To Town," was also shared with businesses in the area. This campaign aims to attract employees, businesses, and local, national, and international visitors back to Cape Town and the CBD.
According to the CCID's annual report, the CBD is 1.6 square kilometres and at the end of 2019, the CBD housed just over 3 300 businesses of which 151 are restaurants.
Subcouncil 16 (SC16), which is responsible for the City's CBD, has already set up a task team to reignite economic activity in the area. This task team is made up of five different work streams to address, among others, regulatory reform, precinct management and activations to increase footfall, within the CBD.
'The option to rent the sidewalk is the first of many interventions aimed at assisting the revitalisation of the CBD. I look forward to announcing further actions to be taken to revitalise the CBD and other commercial centres around the city in the coming months,' said Alderman Vos.
To find out more about this initiative and to put in an application, establishments are encouraged to visit Invest Cape Town's website here: https://www.investcapetown.com/apply-to-rent-sidewalks-at-a-reduced-rate/