A team of recent graduates and young African professionals, including from South Africa, Zimbabwe and Nigeria, have designed the ultimate sustainable home for the future. Team Mahali was awarded first prize in the City of Cape Town and the Green Building Council South Africa's (GBCSA) design competition for the ultimate 'clean green home' competition. The City's Executive Mayor, Alderman Dan Plato, met with the winning team to hand over their My Clean Green Home award.
The My Clean Green Home competition was targeted at students and professionals in the built environment and forms part of the Cape Town Future Energy Festival, a series of virtual event experiences designed to include all Capetonians in the city's future energy story. The brief for the competition was to design a net zero carbon home for display and exhibition purposes.
The Mahali Hub will be constructed and displayed as part of the festival finale in early 2021. Members of the public will also be able to tour the winning entry online. The exhibition will include the full sized model home, built to operate at net zero carbon emissions. They will be able to learn about the possibilities of energy efficient homes.
'This is a great example of the type of out-of-the-box-thinking that we require to tackle our future climate challenges and opportunities. Our city and our sister-cities across the continent need greater design solutions and innovation to ensure that we all become more sustainable and resilient.
'The City is aiming to be carbon neutral by 2050 and it has committed that all new buildings in Cape Town will be net zero carbon by 2030. While net zero carbon homes are seemingly challenging to create, the aim of the competition is to showcase the technologies and building techniques that already exist. Team Mahali's design for the My Clean Green Home is a modular 'house in a box' covered by an overarching tree-like structure made from upcycled and locally available materials. The design incorporates rainwater harvesting, solar power generation, passive cooling and an edible food garden. Well done to Team Mahali and the other 12 entrants,' said Alderman Plato.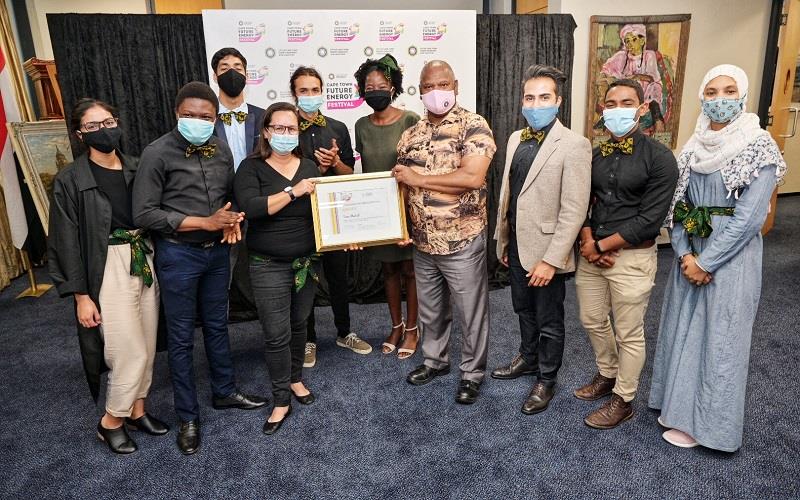 Net zero carbon home
'We are all part of our energy, water and waste targets and when we all reduce our consumption in our homes, the overall reductions are very significant. The brief for the competition was to design a net zero carbon home for display and exhibition purposes, a home that people can start to understand and visualise the reality of living in a net zero carbon home. The GBCSA defines a Net Zero Carbon building as "a building that is highly energy-efficient, and the remaining energy use is from renewable energy, preferably on-site but also off-site where absolutely necessary, so that there are zero net carbon emissions on an annual basis".
'The entrants went beyond net zero carbon and included resource efficiency. Many designs had water saving, waste reduction and social aspects included,' said Lisa Reynolds, CEO at the GBCSA.
The calibre of submissions made reaching a final decision on a winning design very difficult for the judging panel. The criteria used for identifying the winner included passive and active energy efficiency, renewable energy, thermal comfort, materials, ease of construction and overall design. Budget and internal space were key constraints.
'The competition received 13 innovative design entries. Each submission brought their ambitious interpretation of the brief and showed great creativity. The pool of entries spanned students and professionals and we feel the initiative will have a lasting impact on future design projects.
'From the entries received, it was highly evident that South Africans are exploring new, innovative ways of designing homes. The entries displayed incredibly thoughtful, creative sustainable designs and as judges, we were thoroughly impressed,' said Manfred Braune on behalf of the judges.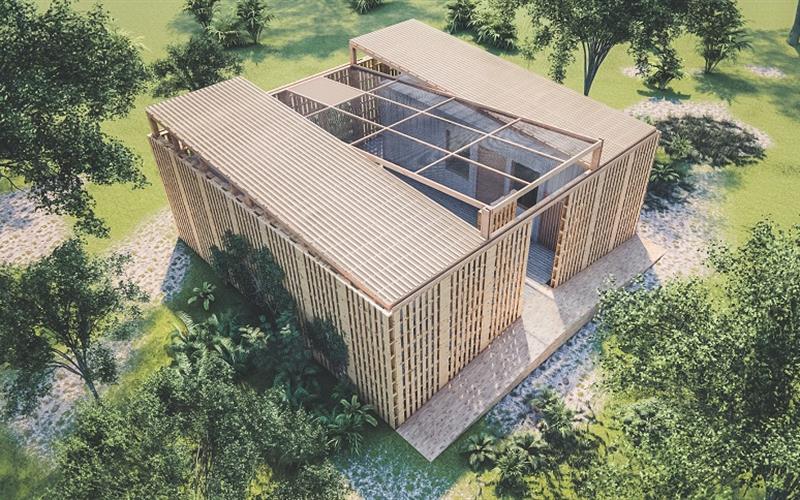 Team Mahali
In 2019, Team Mahali was awarded second place for architecture and design at Solar Decathlon in Morocco, an international design competition challenging university students to integrate renewable energy and architecture.
'The design is inspired by the typical African tradition of community formal and informal gatherings under an expansive tree canopy. The design tries to recreate the communal space by creating a courtyard-like space between two more private spaces for sleeping and living,' said Team Mahali team leader, Sharné Bloem.
Runner Up 2AD Space also had a great proposal with a small, high density unit that made use of an extensive roof area to take advantage of solar energy. The second runner up was Team Panache, with a well-conceptualised layout that integrates sustainability features.
CAPTIONS
Mayor and team leader
Sharné Bloem with Mayor Plato.
Group photo
From left: Yumna Parker, Abiola Kehinde, Ilyaas Ravat, Sharné Bloem, Shawn Alimohammadi, Wimbayi Kadzere, Mayor Plato, Vikash Parbhoo, Argon Poorun and Natheera Ravat.
About the City's Cape Town Future Energy Festival
Hosted by the City of Cape Town, the Festival is a celebration of innovation in climate action, energy efficiency, solar and wind power, water saving, waste reduction, smart transport and sustainable living. The Festival line up ranges from conversations with thought leaders around energy and climate change to educational multi-media shows for kids. The virtual festival runs until January 2021 and will culminate in a physical event in the first quarter of 2021 if COVID-19 regulations and context allow.

Visit https://www.capetownfutureenergyfestival.co.za/